Description
AT&T Long Lines - Cashtown Site
Latitude
+39.896045
39° 53' 45.76" N
Longitude
-77.422731
77° 25' 21.83" W
Identification
American Tower Corporation
88194
Notes
This is a former AT&T Long Lines microwave repeater site. It had links to McConnellsburg in the west and Hanover in the east. The classic horn antennas remain pointed to those locations.

Currently, the tower is owned by American Tower. From the road, there appear to be no tenants using the tower. We did not approach the tower as it was in a populated area, and seemed to have "No Tresspassing" signs on the access road to it.
Visits
When
Notes
April 2003
Pictures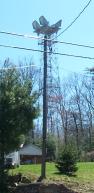 Do you have more information on this tower?
Please
contact us
!